Minimally Invasive Foot Surgery
(Key Hole)
Minimally Invasive Foot Surgery (MIFS), also known as a keyhole approach, uses advanced technology to treat foot pain caused by an abnormal anatomy. Instruments purpose-designed for each condition are used with the aid of intra-operative imaging (such as X-rays and fluoroscopy machines) to visualise and perform the surgery through small incisions. The aim of MIFS is to minimise damage to the muscles and surrounding structures, enabling faster recovery and less pain. With this new technique, surgeons are able to carry out multiple procedures without the use of pins and screws. In this regard, there is less cost for the patient and less burden on the health system, not to mention aesthetically pleasing results.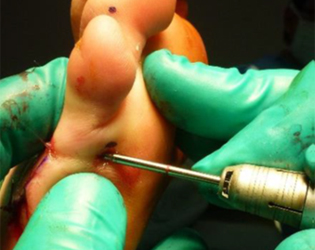 Dr Ozcan is a highly experienced surgeon in MIS techniques, pioneering Minimally Invasive Foot Surgery (keyhole) techniques in Australia. He is a member of one of the first colleges to train MIS surgeons in the USA (AMIFAS). He is currently a teaching fellow of this college.
The benefits of MIFS over the traditional open foot surgery include:
Small surgery scars rather than long incisions with train tracks
Reduced risk of infections due to less invasion of the body
Minimal blood loss during the surgery
No need for fixations such as pins, screws and plates
Minimal post-operative pain
Quicker recovery
Shortens the hospital stay
Quicker return to work and normal activities
Ability to carry out surgery in rooms rather than hospitals
Ability to carry out procedures on elderly and high-risk patients
Aesthetically pleasing outcomes
Immediate weight bearing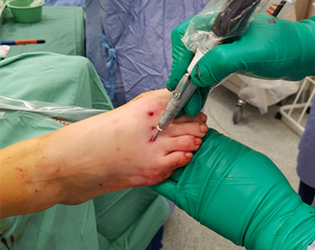 Some of the foot and ankle conditions treated using MIFS techniques include:
Bunions
Hammer toes
Metatarsalgia
Big toe arthritis
Flat feet
Ankle Arthritis
Achilles Tendon Rupture
Toe Deformities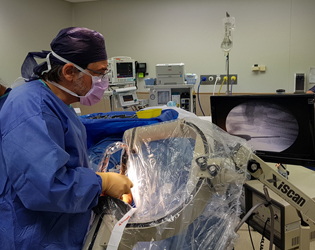 Risk and Complications
As with any surgical procedure, there are risks involved with minimally invasive foot surgery. The risks and complications of MIFS may include infection, bleeding, nerve injury as well as complications due to general anaesthesia.
Minimally Invasive Foot Surgery (Key Hole) – Before and After