Interdigital Neuroma
Perineural Fibrosis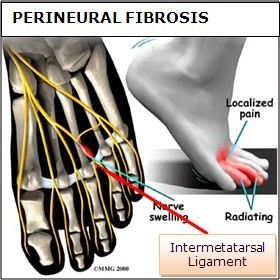 Symptoms of interdigital neuroma typically manifest as a sharp, burning or tingling sensation in the forefoot. The pain radiates toward the lesser toes and is aggravated by shoe wear. The pain is relieved when the shoe is removed and the forefoot is massaged. Sometimes the symptoms involve specific toes. The cause of this problem is often due to impingement of the plantar nerve fibres between the metatarsal heads and the intermetatarsal ligament. It is entirely a biomechanical phenomenon. Differential diagnoses include stress fracture, capsulitis, bursitis or ligament injury at the metatarsal-phalangeal joint, a tendon sheath ganglion, foreign-body reaction and nerve-sheath tumour.
Diagnostic Procedures for Interdigital Neuroma
The diagnosis of interdigital neuroma is usually made by physical examination and review of the patient's medical history. MRI ad High Definition Ultrasound examination may be useful to confirm the diagnoses however they may still not be 100% reliable. The commonest reason for this is due to natural substances present in between the metatarsal heads and between the fat pad and the intermetatarsal ligament. These natural substances i.e. bursa, fat, capsular thickening and even bony growths, can all be a factor in the impingement process and may need to be surgically cleared.
Treatment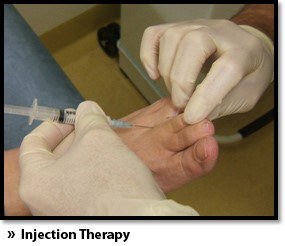 Conservative treatment involves a reduction in the inflammation and removing the impingement factor. Reduction in inflammation is achieved via rest, elevation, ice, and massage with anti-inflammatory gels. Removing foot wear and and/r wearing broad type footwear would also help. Injection therapy is useful in reducing symptoms but not very successful in providing long term relief. The only time when it is most appropriate is when the cause of the space occupying object is not a neuroma but an inflamed bursa. Injection would help to relieve symptoms, and often cortisone is not even necessary.
There are different type injection therapies and recently cryotherapy has shown some success. However, efficacy and effectiveness of this type of experimental techniques may need further research and investigation before it is offered as a reliable method of treatment.
Surgery
Majority of publications including peer review journal articles, surgical technique description and textbooks promote surgical excision as a gold standard treatment. Surgical excision is described as the most definitive mode of treatment for symptomatic Morton's neuroma with reported success rates varying between 79% and 93%.
Various surgical techniques are described, essentially categorised as dorsal versus plantar incision approaches. Beyond this the commonest technical variation described as influencing the outcome of surgery involves burying and anchoring transacted nerve into soft tissue such as muscle.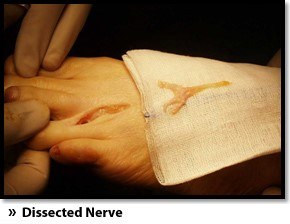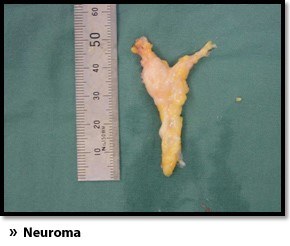 What Is Involved in Neuroma Surgery?
Surgery to excise the neuroma is usually performed under general anaesthetic in a day surgery facility. After surgery, you must keep your foot dry for two weeks. Generally, neuroma surgery allows for early weight bearing and protection in some type of post op shoe gear. Some neuromas may reoccur, but this is rare. Most studies on patient satisfaction after neuroma surgery show approximately 90% reduction of pain and about 85% of all patients rated the overall satisfaction with the results as excellent or good. ¹-²
Interdigital neurectomy (removal of the diseased nerve) in right hands, should give satisfactory results almost all the time. Some of the reasons behind failure is when not enough nerve is dissected, mistakes in initial diagnosis, or bad handling of adjacent nerves, tendons and joint capsules during the operation. It is very common and acceptable to have some numbness in the area where the nerve used to be. This never causes any discomfort and often gets better in few years.
It is crucial to address the biomechanical pathologies underlying the impingement of the nerve during and after the surgery. At the Centre for Podiatric Surgery & Medicine we work closely with your Podiatrist to achieve the optimal outcomes.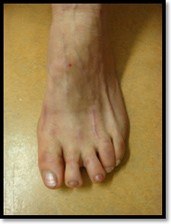 12 month following 2nd & 3rd neurectomy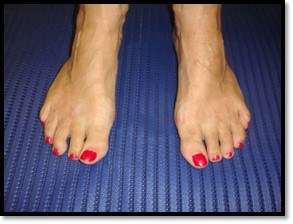 Four years following neuroma surgery on both feet
Akermark C A prospective 2-year follow-up study of plantar incisions in the treatment of primary intermetatarsal neuromas (Morton's neuroma). Foot Ankle Surg. 2008;14(2):67-73. Epub 2008 Feb 21.
Akermark C, Plantar versus dorsal incision in the treatment of primary intermetatarsal Morton's neuroma. Foot Ankle Int. 2008 Feb;29(2):136-41. 1.
Saygi B, et.al. Morton neuroma: comparative results of two conservative methods. Foot Ankle Int. 2005 Jul;26(7):556-9.
Leslie C. Trotter and Michael Raymond Pierrynowski The Short-term Effectiveness of Full-Contact Custom-made Foot Orthoses and Prefabricated Shoe Inserts on Lower-Extremity Musculoskeletal Pain: A Randomized Clinical Trial J Am Podiatr Med Assoc 2008 98: 357-363